2020 Crash
---
---
May 5, 2020
This is a good overview of where things are at.
SOURCE: Marketwatch Article - This is the trap awaiting the stock market ahead of a grim summer, warns Nomura strategist
Questions and Observations
REMINDER: The Stock Market is completely IRRATIONAL and SPORADIC. The Stock Market is not the Economy!

News - Each day the News agencies try to explain why the market moved one way or another. IN REALITY THE NEW AGENCIES DON'T KNOW WHY THE MARKET WENT UP OR DOWN. It is irresponsible of them to try to lead us to believe that the market movement is rational. It is not. Rembember that!

# of the NOT Infected This is the number that matters - Most of the population has NOT been affected or literally INFECTED yet. Currently in Orange County there are 2,252 confirmed cases, with probably 45,040 having caught the virus, leaving 98.6% of the area population still not catching the virus. How can we (Gavin Newsome's California) possibly 'go back to normal' anytime soon? ANSWER: We won't.

Unemployment - On May 5, 2020 the unemployment in the USA is 30,000,000 people. How many of them will go back to work when this opens up?

Health not Economy - Regarding the pandemic - how does a medical drug solve an economic problem? The positive news on 4/29/2020 for the drug by Gillead doesn't solve any of the issues at all, yet we are so desparate for good news it is nearly being hailed as a cure where it just really helps those on their death bed, not to prevent anyone from getting it. REALITY CHECK: This will save some lives (which is very good), but does nothing to change the social distancing that we need to be ended as soon as possible to prevent more economic damage.

Debt, Debt, and more Debt? Quantitative Unlimited? Who is going to pay for all this debt we are creating right now? No politicians address this issue. It will be for new administrations, senators, congressmen, and later generations to figure this out.

May 4, 2020
This guy give a pretty good argument for opposing views right now, and a good reminder that The Stock Market is completely IRRATIONAL and SPORADIC.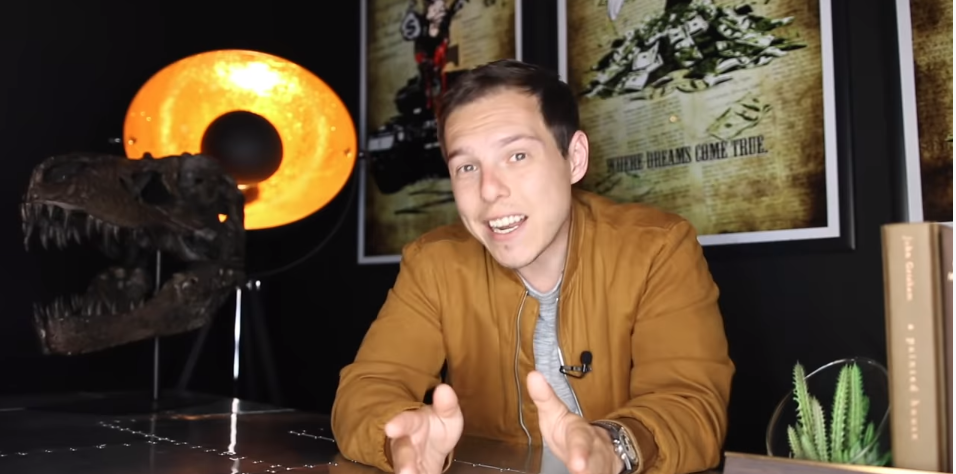 YouTube Graham Stephan
I totally agree with this guys assessment. He is predicting a S&P500 hitting somewhere around 2,400 in the nxt 3 months.
* Medical News (Exaggerated) is already priced in. The news really wasn't all that helpful to the economy.
* Reopening should see the spread (growth rate) increase mid May.
* Unemployment isn't going to get much better in the short-term.
* Earnings will continue to decline
link

Here is another similar article but with different reasons.
link

This guy is even more bearish saying we will see a 40% drop from here
The case that is made here is simply HISTORY REPEATING ITSELF. It happened before, so it will happen again. Although history repeats itself, it is a bit more complicated than that. It is good to know that this isn't the first time we had a large runup in a bear market that went way back down. 40% of today's levels would be sn S&P500 around 1700. I just don't think the FED will let it go that low.
link
Timeline
January 15, 2020 - Run on N95 masks begins.
February 29, 2020 - Run on Hand Sanitizer begins.
Sunday March 1, 2020 - Prepper Buying Begins. Costco and Sams Club start having empty shelves. Many people are buying Toilet Paper, Canned Goods, and other non perishable foods.
Thursday March 5, 2020 - Toilet paper is highly sought after now. Cleaning supplies harder to get.
Sunday March 8 2020 - Price war with oil between Saudi Arabia and Russia. Oil plunges under $30/barrel.
Wednesday March 11, 2020 - U.S. - European travel ban in place by this Sunday.
Thursday March 12, 2020 - California Governor cancels all gatherings over 250 people
Wednesday March 13, 2020 - World Health Organization Declared COVID-19 a Pandemic.
Friday March 13, 2020 - National Emergency Declared. Run on non-perishable foods and sought after perishibles like bread, and veggies begins.
Saturday March 14, 2020 - New Normal is people waiting in Long Lines for the grocery store to open.
Sunday March 15, 2020 - Federal Reserve Board cuts interest rates to Zero. California Governor closes all bars, restricts restaurants to 50% capacity.
Monday March 16, 2020 - US Government issues guidelines that call for people to avoid social gatherings of 10 or more people, and to limit discretionary travel.
Tuesday March 17, 2020 - Bay Area residents ordered to stay home.
Wednesday March 18, 2020 - President Trump invokes federal law to allow marshal of private sector. U.S. and Canada close shared border. $1 Trillion relief package approved.
Monday March 23, 2020 - Bottom of recent selloff, Dow at 18,591, S&P500 at 2,237.
Friday March 27, 2020 - $2 Trillion CARES Act passed, providing $1,200 checks to many Americans, and creating the Paycheck Protection Program.
Friday April 10, 2020 - Applications now accepted for $349 billion dollars Paycheck Protection Program (PPP).
Thursday April 2, 2020 - New unemployment claims were 3.3 million.
Thursday April 9, 2020 - New unemployment claims were 6.9 million. This is now 10.2 million new unemployment claims in the last 2 weeks.
Wednesday April 15, 2020 - PPP funds ran out.
Thursday April 16, 2020 - New unemployment claims were 6.6 million. This is now 15.7 million new unemployment claims in the last 3 weeks.
Thursday April 26, 2020 - New unemployment claims were 5.2 million. This is now 22.3 million new unemployment claims in the last 4 weeks.
Friday April 17, 2020 - Recent Top, Dow at 24,242, S&P500 at 2,874.
Monday April 20, 2020 - Oil 'Options' go negative for the first time ever. Yes they had to 'pay' to get rid of their oil. Crazy Times....
Thursday April 23, 2020 - New unemployment claims were 4.4 million. This is now 26.5 million new unemployment claims in the last 5 weeks.
Monday April 27, 2020 - Government passes $484 billion stimulus package. $310 billion for PPP, $75 billion for hospitals, $25 billion for testing, $60 billion for EIDL.
Tuesday April 28, 2020 - Supply Chain Issues - meat packing plant closures are starting to look like they will affect the meat supply in grocery stores.
Wednesday April 29, 2020 - Consumer spending dropped 7.5% in MARCH when we were closed for only 2 weeks. April should be much worse.
Thursday April 30, 2020 - New unemployment claims were 3.5 million. This is now 30.3 million new unemployment claims in the last 6 weeks. (18.6% unemployment)
Monday May 4, 2020 - Trump threatens retaliation to China for the virus. There are no details on what that would mean other than more 'tariffs'.
S&P 500 on 4/30/2020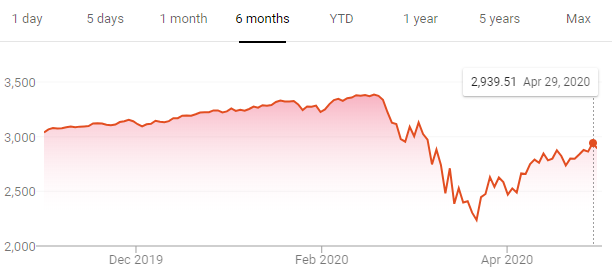 Alan's Prediction on 4/29/2020
The recent stock market top (bear rally) was reached today with the S&P at 2939, Russell 2000 at 1,360. Tomorrow reality will begin setting in. Smart investors will take their gains and start shorting the market. Emotionally I was getting angry to see the Russell 2000 go up 3.8%. "It shouldn't be happening" just kept going through my head. So I essentially 'dollar cost averaged' the Drexion 3x Bear Russell 2000, increasing my bear position from 1/6 to 2/3 of my play money now invested.
https://www.marketwatch.com/story/the-great-repression-is-here-and-it-will-make-past-downturns-look-tame-economist-says-2020-04-27?siteid=yhoof2&yptr=yahoo
Alan's Prediction on 4/20/2020
Once the market realizes we are in the midst of another great recession, the market will go down steadily and be very slow to recover, taking at least 2 years to get back to the GDP levels. I agree with many of the opinions below and predict a prolonged move down in the market. It will take a while, but it should go down. The Federal Reserve will try to prop it up by continued cash infusion, but time will tell if they are able to do so.


This is an interesting article on the disconnect between economic news and the movement of the stock market.
SOURCE: Marketwatch
4/21/2020 (Bloomberg) -- Central-bank balance sheets are expanding to record levels amid their latest buying spree, raising questions about how big they can get and whether those assets can ever be sold back to markets. Policy makers didn't have much luck paring down much smaller portfolios in the decade since the financial crisis. And now they have to bankroll a coronavirus economy that's putting government budgets under unprecedented strain and threatening to drive companies everywhere out of business. "The amounts being purchased are enormous, and it just tells you how much support is needed when the economy is closed down," said Torsten Slok, Deutsche Bank's chief economist. "Just have a look at how long it took to unwind from the financial crisis of 2008 and 2009. Now we are adding at a pace that is multiples faster."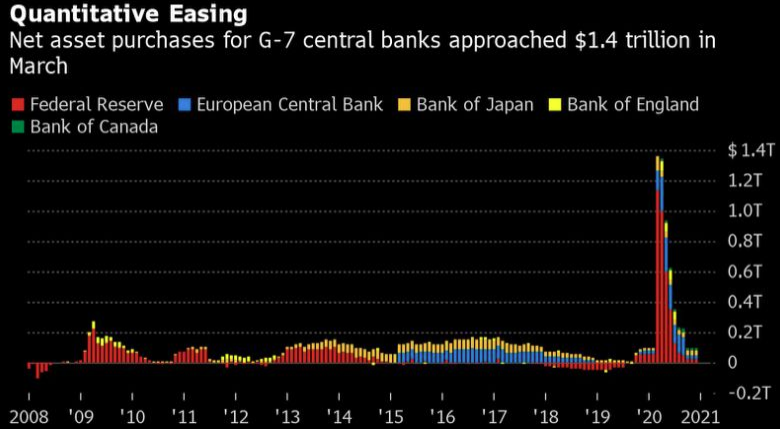 SOURCE: Quantitative Easing (Bloomberg)


'We're only down 15% from the all-time high of Feb. 19... it seems to me the world is more than 15% screwed up.' That's Howard Marks, the billionaire founder of Oaktree Capital, commenting in a CNBC interview Monday on what he sees as a huge disconnect between what the coronavirus pandemic is doing to the global economy and what we're seeing in the stock market.

"It took seven years to get back to the 2000 highs in 2007. It took 5 1/2 years to get back to the 2007 highs in late 2012," Marks explained. "So, is it really appropriate that, given all the bad news in the world today, we should get back to the highs in only three months? That seems inappropriately positive."
Ryan Scribner talks about how the government is propping up the market.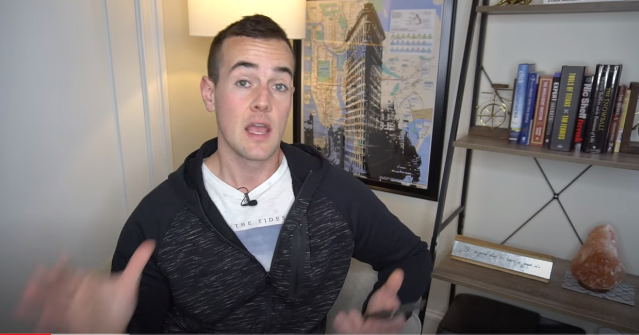 YouTube: Ryan Scribner - The Stock Market is Rigged Right Now...
The folks at Lumovest suggest that it takes hundreds of days to find the bottom. In our 'everything-happens-now' society it is painful to have to wait that long.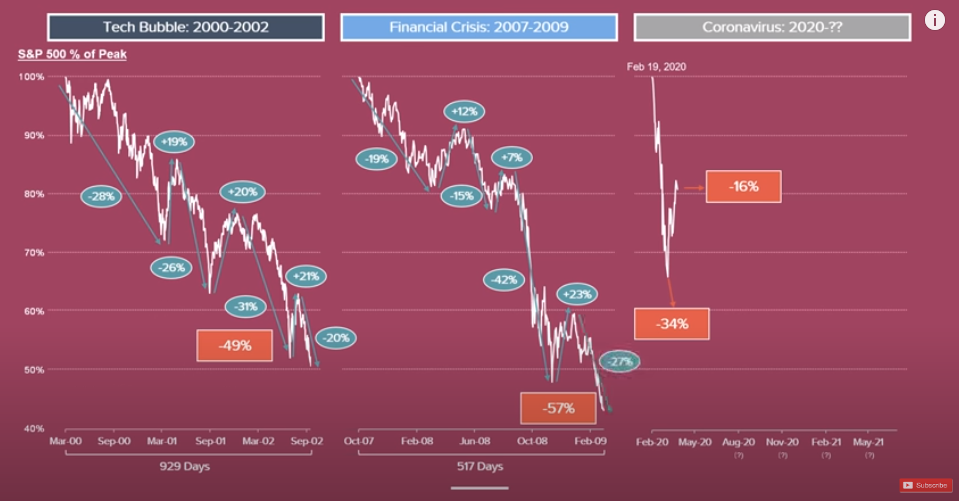 YouTube: Lumovest - Did the Stock Market Bottom? (4/16/2020)
This is a pretty good discussion on where things are at on 4/15/2020.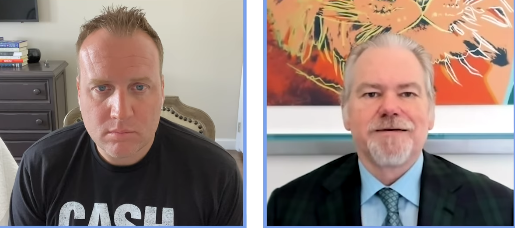 YouTube: The Compound - Why the Stock Market Hasn't Even Gotten Cheap Yet (4/15/2020)
Questions to Ask
Out of the 30,000,000 small businesses, how many of them will go out of business due to this beyond the average of 2,500,000 that go bust?
Monday March 16, 2020
The S&P500 dropped 12% on Monday March 16, 2020 to 2,386.
This is off 29.4% from the peak of 3,381 on 2/14/2020.
The last time it was at this level was almost 3 years ago on 5/19/2017.
I believe the 'bottom' will be somewhere around 2,100, where it was at about 5 years ago on 5/8/2015. The P/E Levels should be closer to their historic 15:1, and it they go back to the 'outrageous' levels in the 20s again then the gains will be significant.
Peak February 14, 2020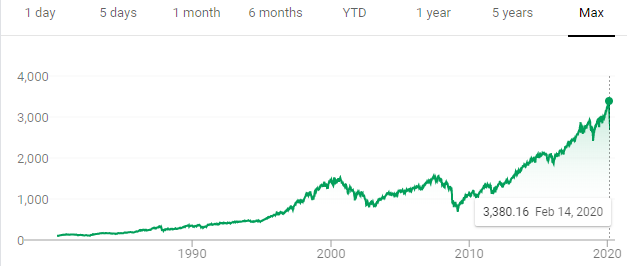 May 19, 2017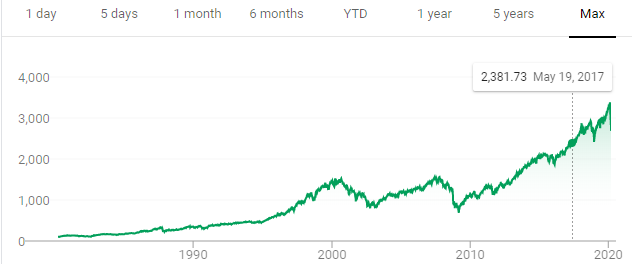 May 8, 2015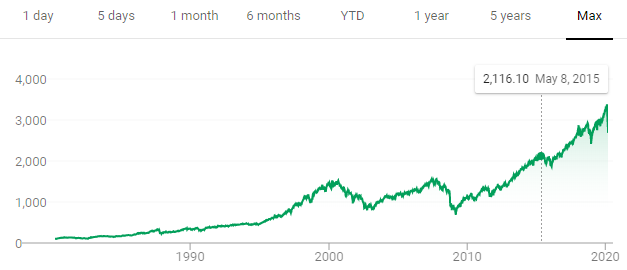 I don't think you should necessarily do all they say in this 'paid ad', but the data they show is pretty good.
https://pro.banyanhill.com/p/SVCCRASH/P190W317/?h=true
..
alanharmon.net